Gallery Designs Buffet Lamp Faux Croc Leopard Print and Crystals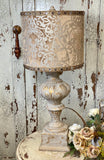 Gallery Designs Lighting by Reilly-Chance offers a gorgeous selection of table lamps, buffet lamps, floor lamps and more!
Our Gallery Designs Accent Lamps are the perfect finishing touch to not only add a statement piece to any room, but to also infuse warmth and coziness!
FREE SHIPPING!
This gorgeous buffet lamp with faux croc and leopard print banded lamp shade with crystals is 41" tall. The lamp shade is 9" across.
More from this collection