Gallery Designs Table Lamp in Cream and Gold Finish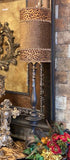 Gallery Designs Lighting by Reilly-Chance offers a gorgeous selection of table lamps, buffet lamps, floor lamps and more!
Our Gallery Designs Accent Lamps are the perfect finishing touch to not only add a statement piece to any room, but to also infuse warmth and coziness!
FREE SHIPPING!
This gorgeous accent lamp is done in a cream and gold finish and  is 35" tall.
The jeweled lampshade is 14" across and is a gold and silvery gray velvet.
More from this collection