Michelle Butler Large Decorative Bottles Limited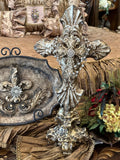 Gorgeous Michelle Butler Snow Leopard Decorative Bottles are truly a one of a kind work of art! These Decorative Bottles are a perfect addition to your Old World Style Decor! 
Far Left- 22"
Second from Left-23"
Third from Left-20" 
Middle/Tallest-29"
Second from Right-25"
Far Right-24"
More from this collection