Peruvian Home Furnishings Verona Hand Painted Wood Console Table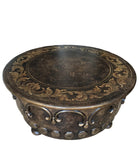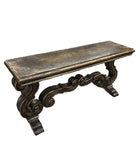 OLD WORLD HAND PAINTED LIVING ROOM FURNITURE

The Gorgeous Verona Console Table can be used as an entry or family room piece.
The Verona Sofa Table is designed for Old World, Tuscan, French Country and Spanish Hacienda style Homes.
Each piece is hand painted resulting in beautiful variations of color making it a true work of art.
68"W x 16"D x 33"H
Peruvian Home Furnishings Handcrafted Console Table .
Old World Hand Painted Sofa Table
Tuscan/French Country Hand Painted Furniture
 Peruvian Home Furnishings Handcrafted Furniture. 
*Due to the continuous cost increases and changes in shipping affecting everyone globally, we have made some changes to our Furniture Delivery and Shipping policy.  Free curbside shipping/ delivery to most locations is included.
 White Glove/ In Home Delivery is available through a tailored service quote. Please click the link to review the new policy.
   https://reilly-chanceliving.com/pages/furniture-shipping-policy 
More from this collection