Beaded Candy Cane Christmas Table Runner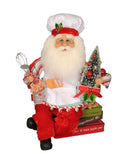 Featuring a bold beaded candy cane motif, this table runner is perfect for bringing whimsical cheer to seasonal celebrations. Great for both family gatherings and formal entertaining, it adds a fun foundation to complement your seasonal decor. Pair with solid linens and dinnerware to make it the star of the table! 
At Reilly-Chance, details are what set us apart!
More from this collection