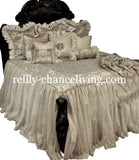 The Westin Luxury Bedding by Reilly-Chance Collection combines rich burgundy and gold velvets and a touch of faux croc leather.
The pillows are adorned with beads, tassel fringe and Crystal covered embellishments. These pillows are even more Gorgeous in person!
 Our over sized bedding is designed to fit the larger beds of today with ample drop on both the duvet and the dust skirt.
Westin set includes: duvet, skirt, 3 ruffled euros, 2 brush fringe euros and 5 decorative pillows.
100% Satisfaction Guarantee. Simply box it up and ship it back within 7 days
Swatches available upon request
Customization available; call 817-581-7979 for consultation
Window Treatments: We offer window treatments for every room in your home, using any of our fabric collections. To view our different styles, click here.

Made in Texas: All of our products are lovingly and skillfully produced by hand in Texas
More from this collection